Your company likely has the constant need to produce visual resources to keep up with the competition in the market it belongs to. To facilitate these activities effectively, your company needs to produce more than one kind of these resources. Among the examples of these resources are different kinds of corporate video production, and they are the following: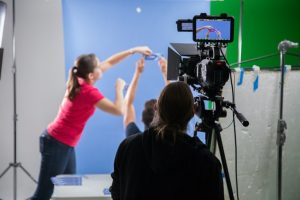 This video is what you need to have if your business has been newly established. A company profile corporate video production can include the history of your company's founding, the mission and vision objectives, and details regarding the founders of your business (i.e., you and your business partners, if there are any). A company profile video can be brief, but, most importantly, concise and informative. 
This business video is conceived with the goal of spreading the word about a particular product or service. Certain groups of audiences are targeted when a promotional corporate video production is launched online.  Needful to say, such a video is also commonly exhibited in television broadcasting platforms. Spreading the word about the launching of a new product is featured in a promotional video, as well. 
Such a video is aimed at targeting specific people (i.e. consumers and professionals) that belong to certain industries. Some of the purposes of creating and distributing copies of this video are to do a corporate video production in Melbourne for business to business marketing, fundraising, and investor appeal, among others. Most often than not, an industrial video is utilized as a trade show. 
The striking appeal of this video is that of being emotive and briefly concise. For this reason, many audiences are motivated to share videos of this kind via their social media profiles. The primary marketing strategy of a corporate video company that creates and distributes a social media video is to promote brand, and not, products or services awareness. 
You can feature your company's involvement in certain events or news headlines to make your social media video stand out. A social media video utilizes online algorithms to target the markets of certain groups of consumers. 
There's no more convincing marketing campaign than to feature a video of testimony of a consumer who has patronized your products or services. Having celebrity users endorse your business' products or services emit a striking appeal to the public. Hence, a celebrity testimonial video stands out twice in the market it belongs to in comparison to a common kind of this video.