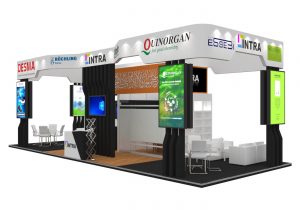 It's been over a year since the COVID-19 pandemic closed down the economy of Australia. But with the easing of restrictions and the arrival of vaccines, business is starting to pick up again. Events are popping up in Sydney, along with booked venues and busy trade show builders as exhibitions and live events are once again open to the public. Website tradefairdates.com notes that there are over 50 registered trade fairs in Australia for 2021 and many of them are happening in Sydney from May onwards. In addition, the International Convention Centre or ICC Sydney has received confirmation of its continuation to hold corporate events, exhibitions, and live entertainment following the COVID-19 guidelines of NSW Public Health.
This piece of good news is a good sign for companies and enterprises to participate in trade fairs which are important events in giving a boost to various industries. With hybrid events on the rise (a mix of virtual and live experiences), businesses are on the lookout for trade show builders in Sydney that can do both. It's a new playing field out there so if you want your business to stand out get noticed, take note of these tips.
Maximize visual impact
It's not just what you say anymore, it's what people see. Today's market is highly visual. If they see something good, they go to it. And that's one major strength of getting a trade show builder. They can help you create stands that will make your eyes turn in your direction. In addition, they can also set up virtual 360 tours enabling those who cannot physically attend to visit your booth even if they are not physically in the venue.
Promote safety and efficiency
While events have a go signal from the NSW government, measures are still being strictly implemented to ensure the health and safety of participants. This is another advantage of having a trade show builder because as professionals, they would know the protocols. They would know how to exactly build your stand in your designated event space in compliance with the health and safety guidelines of NSW Public Health.
Attract the right clients
While trade events bring a lot of fun and excitement, it can also be a major bomb if you do not get enough foot traffic, leads, and conversions to help generate sales. Or sometimes, the wrong people tend to show up on your stand costing you a freebie or two. This happens when your stand isn't sending the right message or it has no message at all. Having trade show stand builders do the work for you can correct this common error because, with the right visuals and setup, you can attract the right customers.